Caris Fawcett | Designer at The Citizenry
Hello! Can you tell us a little bit about yourself?

My name is Caris Fawcett. I'm a twenty eight year old designer, hailing from Dallas, Texas, although I've traveled around a little bit and spent some time in Savannah, Georgia and San Francisco, California, yet ultimately ended up back in my home state. I really consider myself a multifaceted designer. I've always wanted to have my hands on all sorts of different materials, anything from tactile to digital design. I have a background in painting from the Savannah College of Art and Design where I was began as a traditional artist and for the longest time refused to ever do any digital design work. It almost felt like cheating to me, but of course as the years went by, I realized that the world is absolutely your tool box and you can use anything out there to explore, create, and gain new perspectives. 


Currently I am with a small home decor company called The Citizenry. It's about six years old, based in Texas. Our goal is to create ethical and sustainable designs using handmade artisan techniques from all across the world. I fell into this job actually when I was looking to relocate back from San Francisco to Texas. I saw this and right away knew to go for it. My dream job is working with these talented artisans who carry techniques and a lifetime of influences from their ancestors and family to create long lasting, beautiful products that go against the mainstream consumerism right now, where decor feels like a "temporary purchase." Working with this company, the idea is to create pieces and spaces that last a lifetime, while working with traditional techniques and communities. We add a little bit of a modern simplistic influence so that they are produced beautifully and ready for all types of homes. I think what's wonderful about this job, though, is in comparison to previous textile design jobs that I had where I was just creating trendy designs, this company has allowed me to learn and research and find out about so many different techniques, so many different weaves, materials that I previously wasn't familiar with, and learn how we can work with those communities to adapt and modernize their designs to support the artisan sector.

Was there a moment that led you to choose art and design as a career?
I had always grown up being a creative problem solver. There were stories of me as a young child always just looking to solve these artistic issues. I was very creative, picking up pen and paper from a young age. I think a lot of what pushed me into painting and the fine arts was that I had an uncle who during the summers would kind of host a "summer camp" with us where we'd go out in the morning and we'd play tennis, sail, and then there would be a point where he would teach us how to paint. And though he is a phenomenal oil painter, he was a pilot first and never really thought he could go anywhere with his painting career, despite the amount of talent he had. Learning how to do oil painting at a young age really pushed me in the fine arts direction. 
A lot of my family didn't necessarily support a career in the arts. I had plenty of opportunity through my academics, I probably could have attended just about whatever university I wanted, but I was drawn to art, particularly through high school, taking advanced placement art classes, winning competitions and Texas scholarships through my art, until I knew that I had to go somewhere on the creative path. I looked into art school, specifically the Savannah College of Art and Design, and told my family that this is what I wanted to do. And everybody said, you're not going to find a job in the arts. Like, what are you going to do, work in a museum or be a teacher? Which, to be honest, as much as I love art history, I didn't really want to go that route. I don't think I'd be a great teacher, to be honest.

I kept telling them this plan, and I was very stubborn, which I've always been, and eventually through my combined stubbornness and openness to learn just about whatever, I'd pick up just about any job that somebody threw at me.   It's at the point where I am on the creative fringe. Now people constantly reach out and they say, hey, can you do this? And I'll say, I've never done that before, but it sounds fascinating. I'd love to try. And a lot of times it's successful, and every once in a while it's a failure. It's constantly learning and tweaking and taking all these small experiences from graphic design to mural painting to interior design to product design and putting them all together. I think that's definitely brought me to where I am now.

You mentioned ethical and sustainable design when talking about artisans and modern techniques. How do you pay tribute to and make sure you're maintaining the historical quality of the technique in the face of modernization and commercialization?

That's one of the most difficult but the most rewarding parts ofdesign. So currently we work with close to 70 different artisan partners and countries all throughout the world. This is Japan, Argentina, Guatemala, India. The list keeps growing each year. But the first thing that I have to do as a textile designer is I have to look into the area and the region and find out what materials and what techniques are native to that region. Maybe we're looking into Moroccan rugs. They are hand knotted, mostly in the high Atlas Mountains of Morocco, usually in remote, women-weaving communities. And you go through and learn there are so many different textiles out there that document different symbols that they use different colors, the way they use dyes, materials. And it's about collecting a personal catalog, seeing what's possible, what techniques are native and what kind of patterning they traditionally do. It also involves working directly with the artisan groups themselves and having them send catalogs of what THEY think is possible and letting them guide your inspiration. I find inspiration in the beauty that surrounds me. I take to the streets whether it's a walk or run, and I try to look up more often.




I feel like you can find all these small, southern, subtle patterns in the world and use those to find modern shapes, to then blend and infuse them with these more traditional techniques. One of the main goals when designing is to make sure that you're not using the wrong area. For instance, a lot of big name retailers and attempts to create these Moroccan-style shag rugs. They then make these in India. They take the techniques native to one region and then take it to another country where they know they'll be able to mass produce the product. And that's something that we always try to stay away from.

We want to make sure that these products are true to where they're from. There are patterns that these groups of weavers are familiar with creating, and often we like to give them a challenge. I'll design digitally, we'll share these ideas, have conversations, and I'll get updates from these partners saying, this was one of the most challenging projects that these weavers have ever worked on, but they were so proud of themselves. And you were able to help them go to another level and teach them something in return.  I too then learn from them in the process, seeing what we are collectively capable of doing and how we have to change and modify the design in order to work within their capabilities.


Are there any standout travel or community experiences that have had a significant impact on your life and creative expression?

One of the big reasons why I wanted to join The Citizenry was this opportunity for travel - to go see the workshops, how they create, and to work with them over the course of several days, see their dying capabilities. I joined in 2019, and the first trip that I took was to Guatemala, which I absolutely fell in love with. It's lush, it's beautiful, and there's so much culture there. The Mayan influence is absolutely beautiful. They are masters of weaving. They particularly work with backstrap, limbs, brocade, foot looms. These tools are incredibly intricate, and it's a style of weaving that you really don't see often, all the while being surrounded by bright colors, small patterns. That was one huge defining moment - actually being there, walking around these historic cities like Antigua, Guatemala which is absolutely beautiful, a colonial-style city sure, but with these bright buildings. You can see how this color is reflected in a lot of the designs and what the weavers make as well. But then you also find these lush greens, the rainforest, this beautiful lake, Lake Atitlan, and you learn how these communities take in nature and the patterns around them, and work them into their Mayan-inspired weaving methods.

Following that, I took a trip to India, which was one of my dream destinations. When I was given an opportunity to redo my bedroom in high school, I actually opted for a very kind of Indian theme with my room. I chose this dark, burgundy-ish rust red for the walls with a burnt orange and gold mural that was typical of the architecture you would see over there. I had all these textiles and silks and woven pieces. That was huge for me, creating this bedroom that felt like I was transported somewhere else.  I would light my incense and listen to classic sitar music.




The trip to India trip itself was absolutely wonderful. I was on 8 flights within 10 days, just hopping around the country, working with block printers and with rug weavers. It was gorgeous to see how all that came together, but to also explore and see the colors, the architecture, the city of Jaipur, taking all of these photos, which I'd use later on in the design process. I'd observe the curves or arches, or the way that the bricks are laid, and use these as inspiration. This was when I realized that spaces are completely integral to who we are as a humans, how they inspire us, keep us going, and that your home can be a destination too.

Unfortunately, these are the only two trips I've gotten to take with The Citizenry due to 2020 and our whole COVID lockdown, but hopefully we'll be traveling soon. In the meantime, I've been trying to get out of Texas when possible, through safe domestic trips. I spend a lot of time in Montana. I think I was most recently up there for about 12 days last month. That place, it's so vast, it's so open. The colors of the skies are inspirational. It's much slower living out there, and there's opportunity to just breathe, to take things in - the air feels different. The log cabin that I get to stay in is very conducive to creating a peaceful morning routine, waking up, having that coffee overlooking three different mountain ranges, then getting to work and designing. The several times that have gone this year, I've definitely created some of my best work because I felt like that area was able to facilitate a great mindset and headspace.
Do you have a system or method for taking these inspirations and incorporating them into your life while retaining their core essence? Is this an active effort, or does it come naturally? What's your approach to lifestyle design?
Lifestyle design.... I think it comes naturally for me, just putting everything together. I've always been able to adapt to a lot of different situations, but I also am learning as well reflecting on the process on a day to day basis. My home spaces have always been incredibly important to me. In the past year and a half or so, during the depths of lockdown, my home became my space for everything. Work, gym, life... trying to figure out the best style of living has definitely been a little bit of a challenge. I think traditionally in the past I have been a very on the go person. I've consistently worked 60 hour work weeks through a lot of my life and it's constantly okay... what else can I do? What else can I learn? And so it's been very calculated how I can fit everything into my life all at once. Lately I feel like I've been reflecting on that a little bit more. And having this opportunity to go up to this cabin in Montana on a regular basis has definitely started to shift that a little bit. To take these moments of relaxation and enjoyment and really let them seep in, and realize that I don't have to be constantly moving, going and creating. That it is just as important to live in those slow moments vs the quick moments. Trying to find that balance has definitely been a huge conversation and it is still ongoing. I can't say that I've reached the perfect balance yet. There are periods of a month where I'm constantly on the go picking up small personal projects. And then there are weeks at a time where it's OK, I'm going to wake up in the morning, I'm going to make my coffee, I will do 30 minutes of writing. I'll go for a run, etc. Trying to find that balance between rituals... but also taking everything as it comes is a little bit difficult.
Creative endeavors can serve as a means for escapism, while on other occasions it can be grounding. Do you feel that you lean one way or another, using your aesthetic to lean toward escapism or reality?

I often find a color or an aesthetic and I just run with it. It's kind of funny. I went through these phases of my life five or maybe seven years ago, where I was at the point where I only wore black, white or gray, but literally that was pretty much my entire wardrobe. And I was this very neutral, minimal, look. I wouldn't say it was hiding, I still have a high active personality, but having that constant made me feel really grounded. It was always a question of "how can I create the style that I like, but is also very efficient as well, where everything works well with one another". As I continue to design and work, I've really fallen in love with natural, earthy rust tones, leathers, palm leaves, and I'd say that currently my color palette is dominated by browns, beiges, and rusty oranges, which I absolutely love. It's almost turned into this character with me. I would have people mess with me constantly and say "I found this rust-colored dress that reminded me of you" or someone would send me something all beige. It got to the point where the style and aesthetic that I defined, people recognized it and would think of me. This cohesive color palette, this lifestyle, which wasn't just clothing, it's become my home. My car is beige. All the accents that I have between home, fashion, and even utility-wise, like an umbrella, they all feature the same palette. It provides me a lot of comfort and a lot of joy just knowing that everything so seamlessly works together. But it also takes an extra step outside of the process. For instance, I love thrifting, that's the sustainable, reusable part of me. When I go out, I automatically eliminate 80 percent of the product because I'm only going for a few different colors or a few different styles. It's created this interesting sort of efficiency. I can also tell that this inspires other people. I've seen my friends and coworkers identify the styles that I create and are influenced by that as well. It has added to this very calming yet energetic, neutral environment that feels like home.

There was a while, especially during the big jump of IKEA, where everything went a little bit too cold and too minimal. Now people are working their way back into this maximalism, bringing in important, vintage, and unique objects, but also mixing in warmer tones, different worlds, and quality materials.



How do you close the chasm between aesthetic and function - what qualities or attributes do you look for when you buy or add an element to your home?

I think we've all been to a point where we've walked into a room and you feel it. And that goes both ways. The ones where you feel like you say, OK, this is put together well, I feel comfortable. Then there are spaces that you walk into and you think "this feels completely wrong." So I find that the first step when putting together a space is finding a pieces that you intend to keep for a long time. In home decor, there are definitely some brands that are a little bit trendier, but there's lately been a rise of the kind of "fewer, better things mantra". Find the piece that you absolutely love, the one that speaks to you, whether it's got history by being passed down in your family, if it's a vintage dresser that you found off of an Instagram reseller, or if it's just something small, like a small accent that you've taken with you for five different moves and speaks to you - find those and build around it.

What other considerations would you ask homeowners to keep in mind when designing their own space?

I've been working with people recently to renovate and redesign their spaces. I helped out in Montana out in the Modern Huntsman office to create a space up there. I also brought a lot of The Citizenry products to take care of the rest of the house. I just recently completed a four bedroom Airbnb in Dallas that we did from scratch, and then designed a couple of other friends' places as well. When going in to design a space, the first thing that I like to check in with people is - what is your intention for this room? I figure out what they plan to do there, what their vision is. Is this a living room where it's more décor based and nobody's ever going to really sit down in there? Or is it a living room where you want to have places you can seat 10 people and have a board game tonight - figuring out how they intend to use their space for themselves, but also with other people. Do they want to host, or is it their calming, neutral spot? Establishing that intention is absolutely necessary before you begin anything, because that's going to put you in the right direction to determine what are the necessary pieces. Is it a large credenza or buffet when you're going to be serving large dinner parties? Or is it a small but very comfy couch because it's your personal space where you want to curl up with a good novel to read at night. Figuring out what kind of personality people want to bring into each space, is ultimately what's going to dictate it's design. 


You noted the "fewer better things" mantra...

For a while it used to just be people would look at a catalog from IKEA or West Elm or any of these big name retailers, and they would want to copy that aesthetic, almost word for word or image by image, because they're like, oh, that looks nice. But when you are creating a really successful space, you have to tell a story. You need small objects or pieces that resemble who you are, whether it's a vase that you picked up while traveling through New Mexico on a road trip or, a family heirloom. Maybe it's a piece of driftwood that you found on a beach with your lover, or whatever it might be. These small accents are what turn a space into a home. When you walk into a house that's obviously just an Airbnb, it can be well decorated, designed well, but there's always something missing. There's that human element, there's personality. I always recommend including, whether it's shelving or pictures or anything on the wall, design that kind of brings a little bit more of you and your personality into space. That's what's going to elevate and turn it into a unique spot. 

We've heard that you are building your own camper? What made you decide to do that and what's your vision with this personal project?

As mentioned, home décor, designing spaces has always been an integral part of my life. It's always been the most important part of me. Any time I move somewhere else and at a certain point, maybe five or six years ago, I realized that one of my dreams would eventually be to design and own a boutique hotel. I love the Santa Monica Proper Hotel, who's designed by Kelly Wearstler, one of my favorite interior design inspirations, does a great job at this. Her design has furthered this idea and this agenda of me saying, OK, that's what I want to do, I want to design these destinations, these places that people travel to, but when they get inside there, they're taken to another space as well. The question is, how do you come up with the capital to build a hotel, motel or a little boutique BnB? I never really figured that out. Recently I was out West Texas and my partner owns about 8 acres of forestland out there while he lives up in Montana most of the year or so. I remember going out there for the first time last year and there was a little tiny path cut by a machete, you could hardly get yourself in there. It's overgrown with an invasive species called Privett that's choked out some of the trees. It was almost impossible to walk through. But slowly over the course of the past year, we've managed to clear out a little bit more of the path. He's always talked about eventually wanting to build a house there, but doesn't necessarily have the time or bandwidth to do that.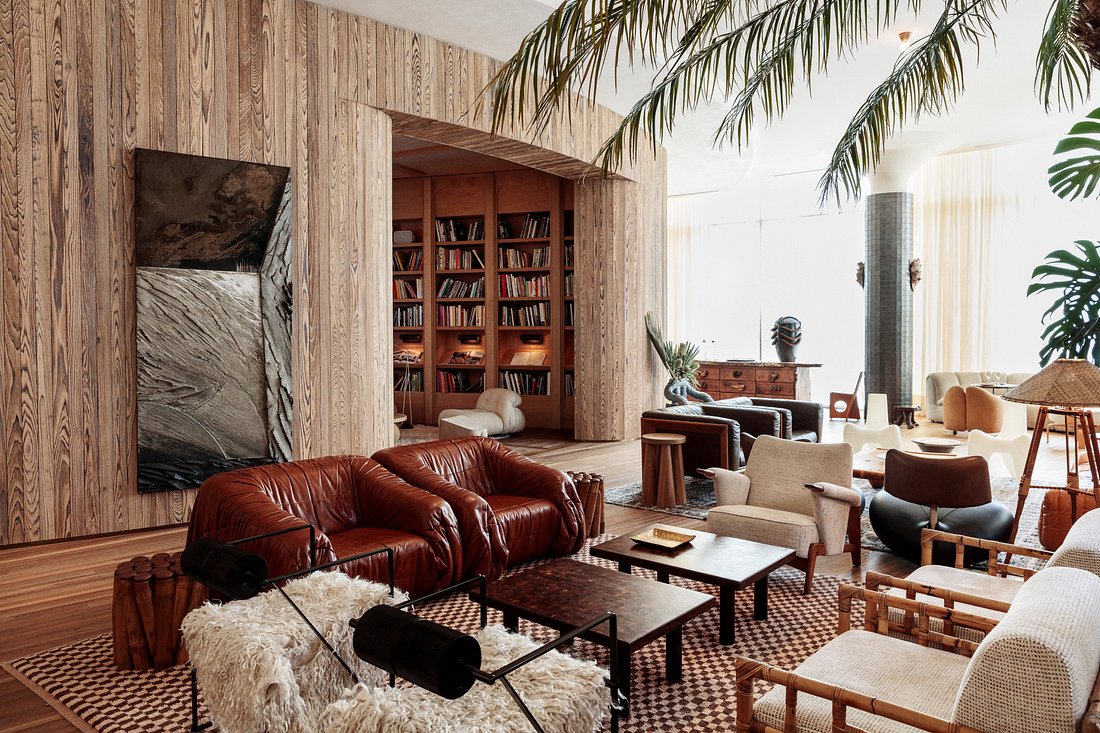 I looked at it and thought, this has so much potential, there's not a lot of spaces where you can be within Dallas city limits, but feel like you're camping over an hour and a half outside the city. This place has that potential. I looked at it and I thought, I want to buy a trailer. Within 12 hours, I was already on Craigslist and marketplace searching for trailers and going through each, figuring out realistically how much money and time do I want to put into building this camping experience. So while I would have loved to have done a classic Airstream, unfortunately those are very expensive. You're looking at 60, 70 grand for a fully renovated one, 8 to 10 grand for just a shell of one that you'd have to build in. Eventually I found what I thought would be the perfect little little trailer. Well, not so little. It's twenty eight feet. Right now it definitely is rough inside, but it's got a kitchen, it's got a couple of beds, it's got a bathroom. So I'll take the next few months working on renovating that, from ripping out the floors, putting in new hardwood, redoing some of the cabinetry and then mostly outfitting it and putting on accents where it looks very modernized, but still tells a story. I've also gone through and selected a color palette and am working in The Citizenry's product. I'm trying to build this out to make it a little tiny home away from home, where eventually we would like to Airbnb this trailer out to the community of Dallas, 15 minutes from downtown. You're in these woods. You'll have an adorable little trailer, but it doesn't really stop there. Eventually the goal is to build out an entire glamping experience. El Cosmico is a huge inspiration in Texas, located in Marfa. They're known for their airstreams, their trailers, different tents and tarps. So utilizing my partner's background and traveling to Africa and photography, we hope to take those inspirations and create Safari-style tents, use a lot of olive green's tans, neutrals, which we both love, to create this oasis.




Do you feel like it benefits you to move fast and take these risks or do you make decisions based more on intuition and a feeling? How do you see yourself when you're embarking on a design project?

This one's been a little bit of a tough one because immediately I thought you know what? I'm going to buy this trailer. It's going to be great. And I had this huge vision. I started making mood boards and putting everything together. The first trailer that I saw online on Craigslist, I was set to go pick it up. I spent time mocking up the entire interior of the trailer to see the before and after, and convinced myself it was the perfect one. I had it all set up to buy, and I tell them I can even come a day earlier if that's better. They said no, Saturday morning is better. The night before at midnight I got a text, telling me that he sold it. There was this moment of heartbreak where I was just like, oh, damn. I thought this trailer was perfect. I had to accept that. From there I took a step back and I said, maybe it's better that I didn't get this first one because I should probably think through the logistics of this. No one is towing it onto land that's not very developed, which had I bought that one, it would have been a pain in the butt trying to figure out how to get there. I probably would have had to park it closer to the street, it might have gotten broken into. So I started thinking a little bit more about the logistics. Originally I was so excited. I just wanted to bite the bullet, jump the gun, get it started, start painting the interior ASAP, but quickly realized that it's not as easy as just buying a trailer, especially when there's so much renovation that needs to be done.

I think I'm pretty good at being a dreamer and a realist. I create these big ideas. I want to act on them quickly. But I also have this capability to step back and say, OK, what could go wrong, will go wrong, and how do I try to resolve this? I've definitely had to step out of the comfort zone because I'm realizing I'll have to research into septic tanks and how to install one, and what are my options between solar and generators. Eventually getting electricity onto this property is going to be a very, very large cost. Initially when I start a project, I get really excited. I jump into it and then I hit a minor wall. I then use that time to step back, reflect and say, OK, let's be realistic. Let's think about what actual timelines, actual costs, actual lists of priorities are, and then work my way through those challenges. 

What are you looking forward to outside of the camper project? Is there anything that you're seeing on the horizon, whether it's just in life, culture or in your community that excites you?

The Dallas arts community in general. One of my closest friends is very involved in the music scene, and I see her pulling together a local record shop, along with a lot of local artists, to work on purchasing a venue and getting that program  together. Eventually I'd love to work with her to host outdoor concerts on this land. In the meantime, I want to see her succeed. Mostly it's about supporting all of my fellow friends in the small business endeavors that they do. I love that we're a generation of individuals who don't necessarily feel confined to the nine to five, and stick to the same job for thirty five years. Much more of risk takers and business starters. One of my other best friends is working on selling vintage clothing and figuring out how we can work together and put our hands together to create ladders that we can all climb to succeed and help build as part of the communities. I love seeing how each of our talents and strengths can band together and help us rise to the top.  Then as mentioned with the land, we'd love to do this safari style tent experience. I personally have never been to Africa, but I am working on planning a 10 day safari in East Africa, Tanzania and Kenya in October. I'm planning through that and feel like I'm going to find so much inspiration out there with nature, with the people. Hopefully along the way if there's any artisans that I can be directed towards, I'll use that as an opportunity to inspire my work. Going out there will touch on so many different facets of where I am with my life - between doing interior design, between the trailer, and just finding peace and calm out in the middle of nowhere.


To learn more check out @CarisFawcett on Instagram, and visit The Citizenry to view some of her wonderful designs.
 Images courtesy of